BBC News Reports
"A trouble-hit vintage railway on the Isle of Man saw 95 "safety issues" over the past three years, new figures have revealed.
"The Snaefell Mountain Railway, which joins Laxey village with the summit of Snaefell, is currently closed amid a health and safety inquiry.
The Manx infrastructure department has released data for problems besetting the line between 2015 and 2017.
An infrastructure spokesman said some of the incidents were "minor".
The information was released following a question at Tynwald.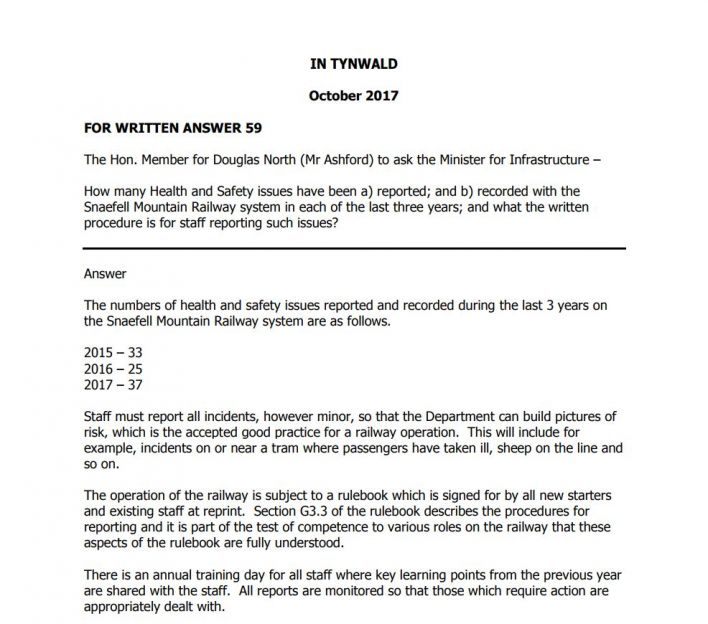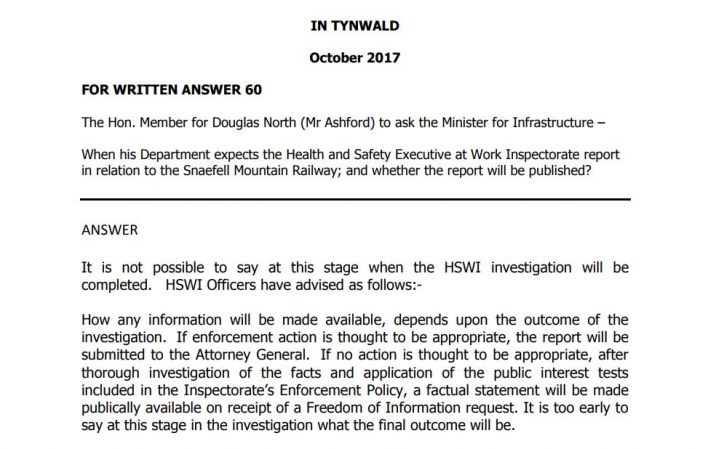 Hansard extract from the October 17th 2017 sitting of Tynwald.

The electric railway runs for about five miles (8 km) and is part of the Manx Electric Railway, which is recorded in the Guinness Book of World Records for operating the oldest tramcar in the world
Last year an electric tram was destroyed after derailing and crashing, although no-one was on board at the time.
In August an "out of control tram" travelled backwards down the mountain for about 180ft (54m) before the crew were able to switch from a modern braking system to an older one.
No specific details of the 95 incidents have been released.
However, the infrastructure spokesman said they included "incidents on or near a tram where passengers have taken ill" and "sheep on the line and so on".
He added: "All reports are monitored so that those which require action are appropriately dealt with.
"Operating a heritage railway system in a modern safety management environment is challenging."
At the same sitting, Mr Ashford also asked questions as to how often the fell brakes have been used in recent years due to failure of the SMRs rheostatic braking.