Longstanding readers of Manx Transport Review will recall that Lisbon Car 360 was controversially acquired at no small cost to the Manx taxpayer by Isle of Man Railways in 1996, and became the subject of a major political row. This 1906 built tram arrived on the Island following an epic journey from Portugal, complete with four spare motors which were marked as 'scrap'.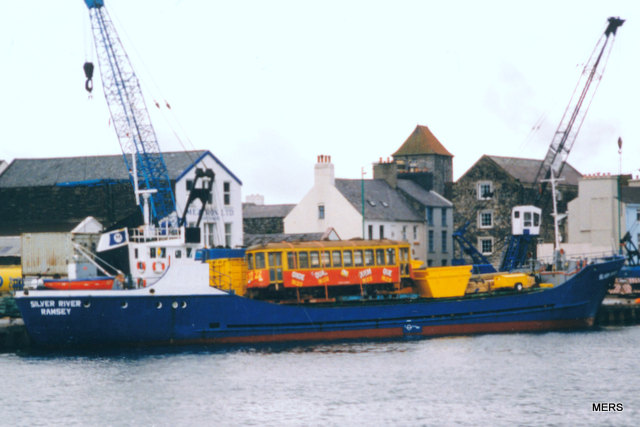 Mezeron's 'Silver River' is seen docked at Ramsey on June 3rd 1996 with Lisbon car No.360
as deck cargo after a long and difficult journey from Portugal.

As predicted at the time by the Manx Electric Railway Society, the tram proved to be highly unsuitable, problems with lineside clearances meant it was incapable of safely operating along the MER. The only time this expensive 'white elephant' operated under its own power was within the confines of Derby Castle Yard for the benefit of visiting enthusiasts.
The car was eventually put to use as a short-lived passenger shelter at Derby Castle, before being placed into storage. The body of 360 later passed into private ownership, spending sometime in the garden of a residence in Ballasalla. After a further move to the Republic of Ireland in 2019, Car 360 is now utilised as a café in Dublin city centre.
It is planned to feature an article concerning Car 360 in Manx Transport Review No.100, any photographs of it operating in service in Lisbon would be gratefully received. Anybody who can help is requested to contact us at: [email protected]