The Snaefell Saga Continues……..
"Isle of Man Transport has said it wanted to run the Snaefell Mountain Railway this year, but it wasn't its decision. The decision not to open the tramway for its 125th anniversary has been criticised by supporters and politicians.
To celebrate the railway's 125th anniversary, Isle of Man Transport shared a picture on its Facebook page showing trams 1, 2 and 5 lined up outside the tram shed in Laxey.
However, this drew the ire of Daphne Caine (Garff) who had pushed for all the island's state-owned heritage railways to open this summer for local residents and Guernsey holidaymakers. Mrs Caine said: 'Shame when they could run the rest of this season along with MER trams for local residents and Guernsey visitors - at minimal cost, and breakeven quite possible.'
The Garff MHK also shared the written answer she received from August's Tynwald when she asked for the estimated costs for running a limited service for the SMR and what the breakeven point would've been for the trams.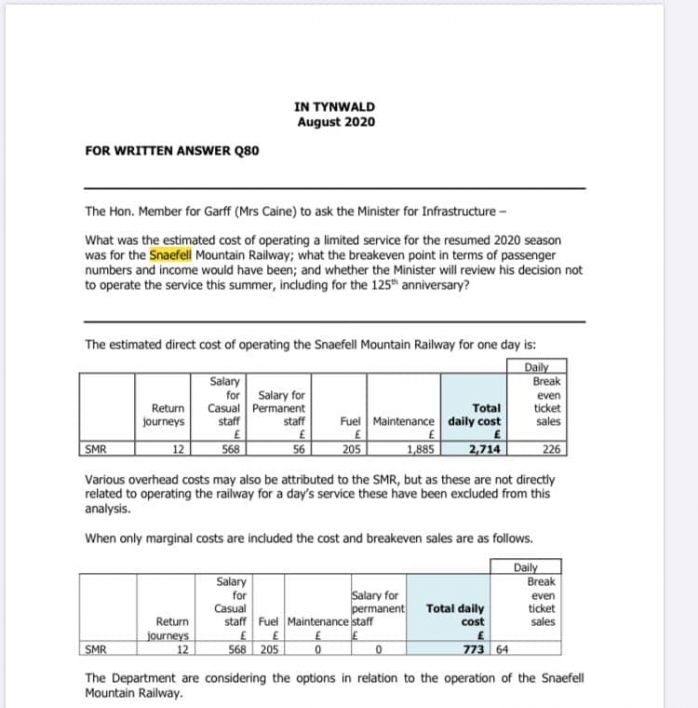 In his response, Infrastructure Minister Tim Baker said the total daily cost would be £2,714, meaning the railway would need to sell 226 tickets each day in order to break even. When only marginal costs are included, the bill per day would be £773, requiring 64 tickets to be sold each day in order to break even."
Isle of Man Newspapers
The Facebook posting resulted in the following comments being made:
Stephen Mylchreest 'I wonder if IOM transport understand irony? This post just rubs salt in.'
Isle of Man Transport 'Stephen we would love to run this summer'
Stephen Mylchreest 'Isle of Man Transport why not accept the generous offer made by the railway supporters? Too late now though unfortunately.'
Isle of Man Transport 'Stephen while we are the operator, that was not our decision to make!'