Ongoing Promenade Works Continue To Have An Impact On Horse Tramway
At short notice Isle of Man Transport announced on Tuesday, July 16, that due to ongoing Promenade work, it was necessary to temporarily suspend services on the Bay Horse Tramway.
Isle of Man Transport - 16 July at 10:57
TRAVEL ALERT:
Douglas Bay Horse Trams will not operate today.
WHY: Due to necessary prom works.
OTHER INFORMATION: We will have further information later today with regards to if the horse trams can operate tomorrow.
Sorry for any inconvenience caused

By Saturday, July 20, services along the truncated Horse Tramway had been restored:

Isle of Man Transport - 20 July at 10:52
Whoop Whoop - We're happy because we can hear the 'clip clop' along Douglas Prom again! The Horse trams are back operating a day earlier then we expected.
Why not take a ride then visit the stables? It's only £1 a ride! Operating till 18:00hrs today.


Meanwhile the Department of Infrastructure continues to come in for criticism from within Tynwald and those being effected by the ongoing disruption whilst the Promenade work is underway. Just two of the businesses located on the Promenade explain the effect the works are having upon their trade in an interview with Manx.Net.
'Committee Chair Hopes Lessons Can Be Learnt From Prom Scheme'
Manx Radio Monday, July 22nd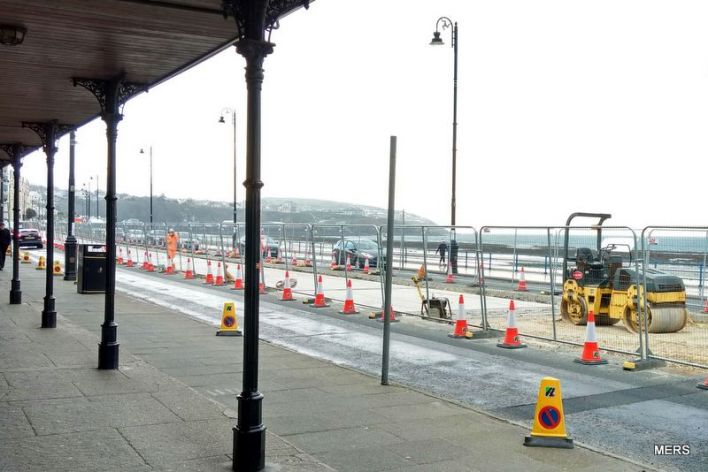 One of the lengthy of sections of Promenade which lacks any form of crossing point for pedestrians.

"MHK keen to see government work with local businesses affected by works
'The chairman of a Tynwald committee believes there are lessons to be learnt from the Douglas promenade refurbishment scheme.
The Environment and Infrastructure Policy Review Committee has been hearing evidence from Department of Infrastructure bosses, as well as hoteliers and restaurant owners based on the seafront.
With around 18 months before the project is completed, some businesses have reported trade has fallen by up to a fifth.
Rob Callister MHK hopes the government works more closely with local traders for the remainder of the works.'
Mr Callister's comments can be heard HERE.


Ray Harmer MHK (Minister for the DoI) and Mr. Jeff Robinson (Director of Highway Services) both recently took the opportunity to respond to the ongoing criticism in an interview with Manx.Net