Bus Vannin carried a record number of passengers during this year's TT Festival with an 11% increase on the figures from 2017.

A total of 234,418 journeys were taken by passengers between Friday 25 May and Sunday 10 June, representing an increase of 22,968 journeys compared with the corresponding period last year.
Passenger figures across the Isle of Man's heritage transport attractions were also exceptional during the TT fortnight with a combined total of 52,617 journeys taken on the Manx Electric Railway, Snaefell Mountain Railway, Douglas Bay Horse Trams and Steam Railway.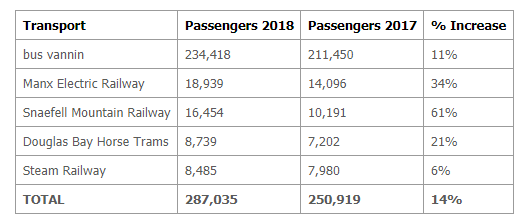 The busiest day during TT 2018 was Tuesday 5 June when nearly 26,500 customers travelled by bus and rail. The combined revenue for Isle of Man Transport during the fortnight was £590,378.
Ian Longworth, Director of Isle of Man Transport, said:
'What a fantastic 2018 TT. I believe the main reasons for our success this year has been the extra promotion of our unlimited travel Go Cards, the launch of contactless payments on buses and the simple online journey planner Traveline - all this sprinkled with great weather.
'I personally would like to thank all employees of Isle of Man Transport for the hard work, commitment and extra hours they put in over the TT period.'
Jason Moorhouse, Member with political responsibility for Public Transport, said:
'This is another quite outstanding set of passenger figures for Isle of Man Transport.'
'Over the TT period a special timetable is put in place to meet the additional demand, including more frequent services and stops at popular campsites. Each year the department looks at ways to improve customer satisfaction, services and capacity. I know they are already working on 2019.'