Isle of Man Newspapers 30th October 2017
"A new planning application has been submitted for temporary horse tram stables to be built on part of the Summerland site next year.
The Department of Infrastructure has submitted a proposal asking for full approval to develop half an acre near the Terminus Tavern on King Edward Road in Douglas.
The proposal comprises a stable building, measuring 12 metres by 55 metres long, a hay store, and facilities for 11 staff members, including parking spaces.
If the plans go ahead, the six horse tram crew and five stables staff will work with a mess room, drying room harness room, feed preparation room and a store room to care for their 19 horses.
Requirements for the plan include amended services for telecommunications, electricity and water for the addition of two toilets and other fixtures.
The building will be in operation, as part of the Douglas Bay Horse Tramway, from March to November with the normal hours of 8am to 7pm.
Planning approval was previously obtained to build a temporary tram shed and stabling facilities on the Summerland site in February this year. But an alternative plan was drawn up as the original design was found to be unaffordable.
Instead, a smaller scheme was considered to allow the tramway to continue pending a long-term strategy.
The old horse tram stables on Summer Hill were put up for sale by Douglas Council last year and are now under offer. Enthusiasts fear they could be demolished for development.
Douglas Council had planned to use the sale proceeds to help fund a combined stables, depot and visitor centre at Strathallan. When government took over the horse trams, the Strathallan depot was declared unsafe and boarded up."
The planning application can be viewed in full on the Isle of Man Government website

Meanwhile, BBC Online have also reported on the new planning application, the article is available to view HERE. The BBC incorrectly claim that the "current stables used since 1877 are in need of major repairs". It is the the condition of the Strathallan Tram Depot which is the cause of concern, not the stables located at the foot of Summerhill which underwent major refurbishment at the commencement of the 21st Century.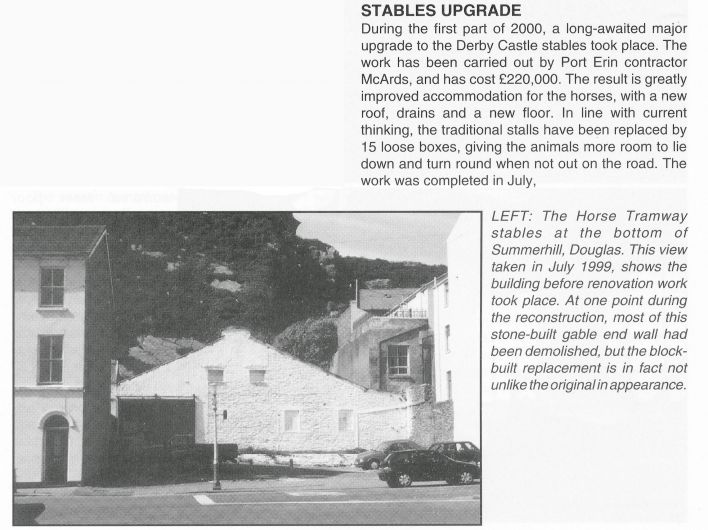 An extract from Manx Transport Review No.79 - Summer/Autumn 2000