The Manx Electric Railway Society made two separate Freedom of Information Requests with the Isle of Man Department of Infrastructure and the Department of Environment, Food & Agriculture in the following terms:
1a. Please can you provide details of all safety related incidents dating back to 11th October 2011, concerning the Island's Heritage Railways (Manx Electric Railway, Isle of Man Railway, Douglas Horse Tramway and Snaefell Mountain Railway), Details to include – which railway, category of incident(derailment, overhead wires, brake failure etc) and the number of each incident, and
1b. the findings of any subsequent investigations or enquiries?
2. Also please can you provide the identity of the Snaefell car which was involved in the brakes failure incident on Friday 4th August.
When we finally received a response from both the departments concerned, undisclosed was any mention of the following alleged incident which has been posted on the review website Tripadvisor.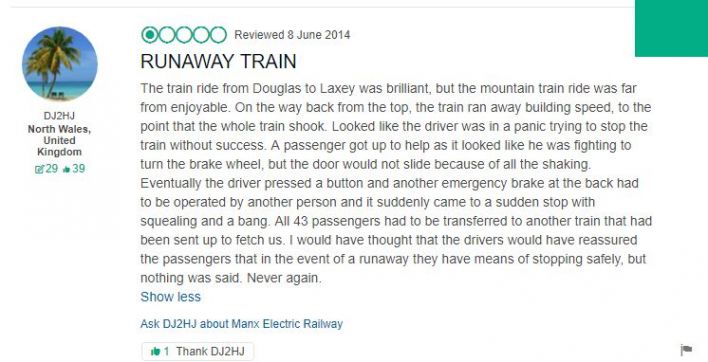 Click HERE to read the review on Tripadvisor
Whilst we do not know the identity of the individual who posted this, we are nevertheless left with a prima facie allegation which appears to be unrecorded by those who run the Snaefell Mountain Railway. The alternative is too horrible to contemplate: that they knew of it but have ignored it.