Having derailed and overturned at around 10am on Tuesday 7th July 2015, the recovery of stricken Winter Trailer Car 58 was a protracted and delicate affair. To allow a crane to access the scene of the incident, the main Douglas/Ramsey (A2) road was closed to all traffic from 6.45pm, between Dumbell's Row and Church Hill. By 8.45pm, 58 had been lifted and re-railed, the A2 road re-opened to traffic soon afterwards. With the help of a tractor, 58 was returned to Laxey Station at about 9.20pm, it was then coupled up to Winter Saloon Car 22 and made the short journey to Laxey Car Shed for storage. The results of the investigation to ascertain the cause of the derailment and an assessment of the damage sustained by Trailer 58 are both awaited with interest.

Richard Dodge was on hand to record the recovery operation, some of his photographs are reproduced below, for which the MERS is grateful.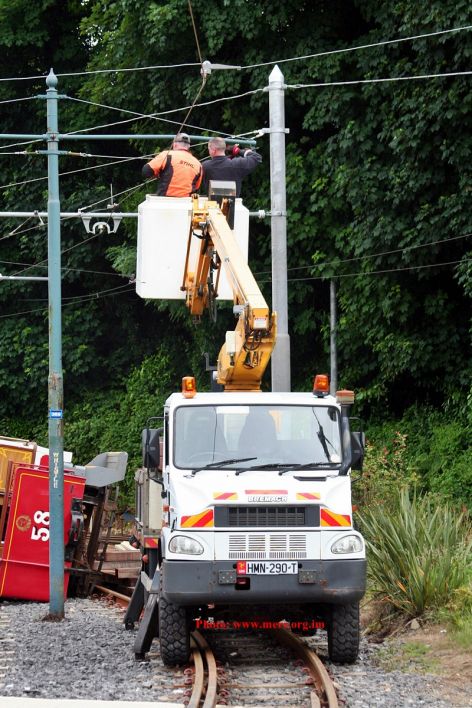 To provide clearance for craning, some overhead equipment was dismantled.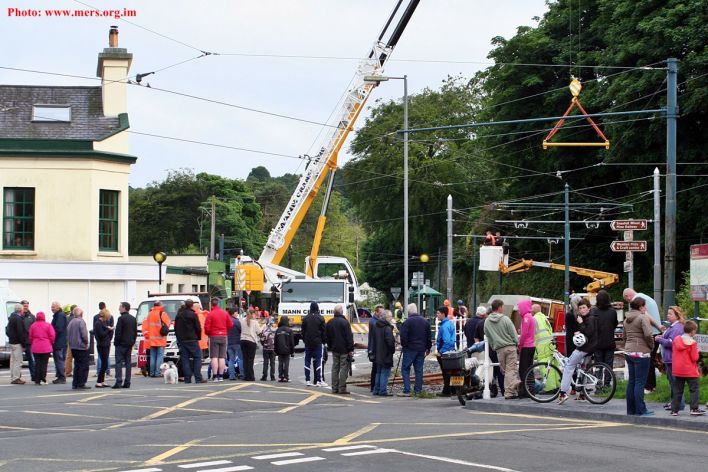 A number of onlookers gathered in the closed main road to watch the recovery of Trailer 58.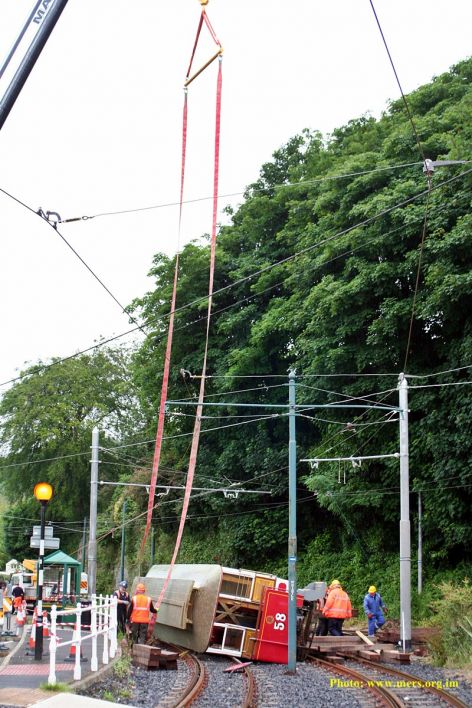 The jib of the crane and slings are positioned prior to lifting.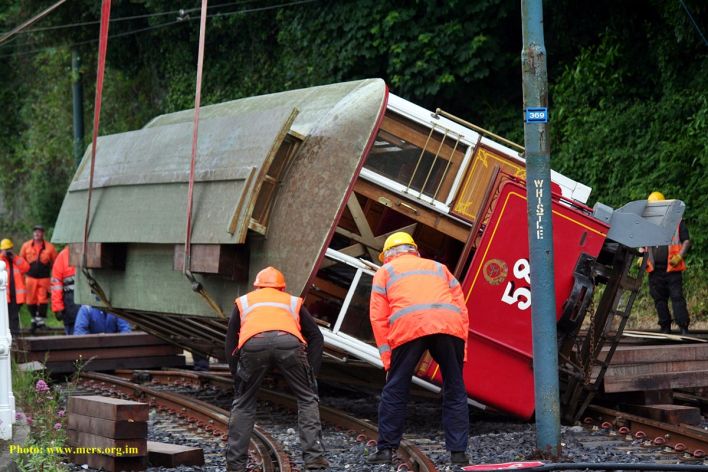 58 is gently lifted, packers are in place to prevent the slings damaging the trailer's clerestory roof.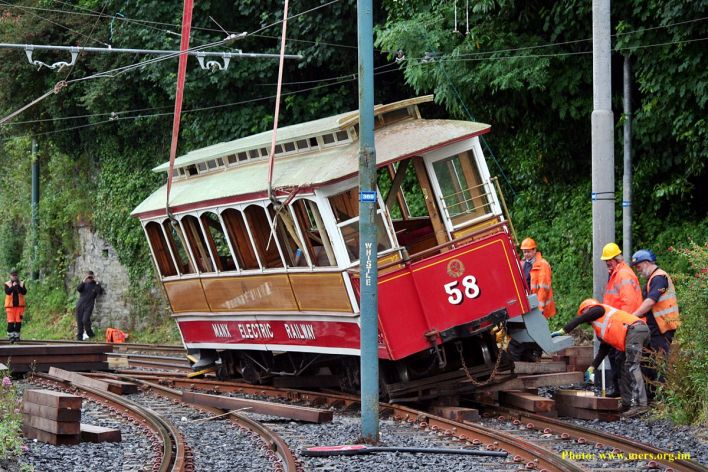 The lift is halted whilst the slings are moved to beneath the underframe. Once completed, lifting continues.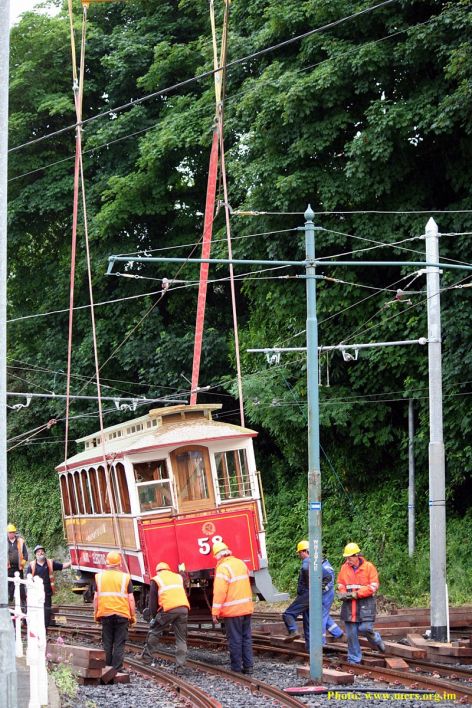 58 is swung to the southbound track.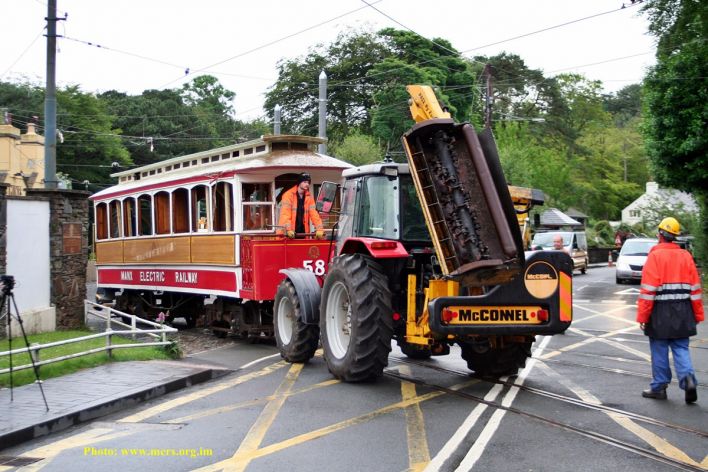 Once rerailed, 58 is shunted over Laxey No.1 Crossing by a tractor.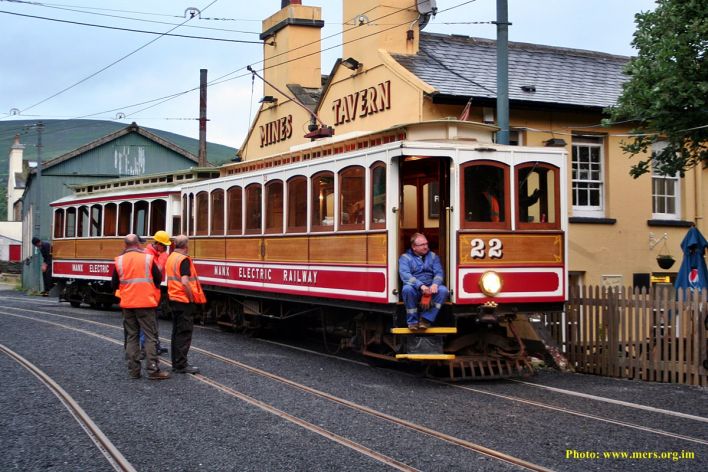 Winter Saloon Car 22 removes 58 from Laxey Station.