Originally formed in 1973, the MANX ELECTRIC RAILWAY SOCIETY is a partly political organisation charged with the express purpose of protecting and promoting the retention and development of the MER and other Island tramways at a reasonable cost. It successfully campaigned for the reinstatement and re-opening of the Laxey - Ramsey section of the MER during 1975-77.

The Society proposed the 1993 "Year of Railways", a series of events to mark the Centenary of the MER. Initially brushed off by management who had planned "a special tram with some ham sandwiches", the Society persuaded politicians who in turn put pressure on Isle of Man Transport and the opportunity was eventually embraced, producing some 25,000 extra visitors during the year, and inspired a series of follow up events throughout what was left of the 1990s.
In 1999, the MER Society vigorously and successfully opposed a new bus service, the 11B, which would have followed the same route as the MER, leaving 5 minutes before every tram and charging bus fares at least half the price. This was seen at the time as the biggest threat to the survival of the railway since the Ramsey line closure in 1975.
Since its formation, the MANX ELECTRIC RAILWAY SOCIETY has continued to offer help, advice and assistance to the railway, and remains as a resolute and constant guardian in an unpredictable and at times hostile world.
The MANX ELECTRIC RAILWAY SOCIETY is the only Island based organisation concerned with all aspects of Island transport and pursues an active and direct interest through its comprehensive and fully illustrated magazine, MANX TRANSPORT REVIEW. This journal deals with road, rail, sea and air transport topics, and is distributed free to members. As well as a round up of news and comment, the magazine contains special features, historical and technical articles and forms a vital forum for the exchange of views.
In February 2015, the Society officially launched its new website, designed to complement the magazine with historical and political content aimed at promoting interest and retention of the MER, and featuring public and members only pages and online membership to extend further the reach of the Society to a worldwide audience. The previous incarnation of the MERS website has been archived and can be viewed HERE.
MANX TRANSPORT REVIEW (Incorporating Mann-Tram) ISSN 1462-5660 is published as the official organ of the Manx Electric Railway Society Isle of Man. The latest issue is printed in colour by Forsyth & Steele of Blackpool, Lancashire. All rights reserved. Copyright is vested in the Manx Electric Railway Society. Views expressed by correspondents and contributors are not necessarily those of the Society. MTR would be pleased to hear from anyone willing to contribute news reports, articles, photographs, drawings, original letters or any memorabilia.
Full membership currently £8 per annum (Overseas rate £10 per annum) due April 1st of each year (which includes free copies of Manx Transport Review) whilst an annual 'E'-membership is available via the website, at just £1 and both are open to those who are interested in the Society's aims. Full membership details can be obtained by writing to the address below or by visiting the HOMEPAGE. MERS members are advised to read our General Data Protection Policy which became effective from May 1, 2018.

Chairman: I. Nutter
Secretary: J Nutter
Treasurer: K Lewin
Membership Secretary: A Spencer
Committee: M Skehan, R Stanfield, C Bond, D Buttery
Address
The Manx Electric Railway Society
PO Box 117
Douglas
Isle of Man
IM99 1JS
Email: [email protected]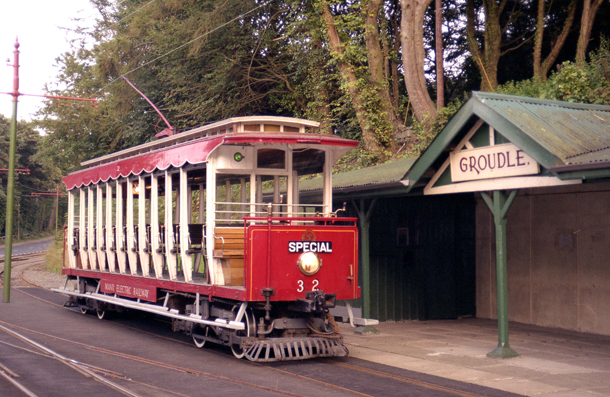 MER Car 32 pauses at Groudle on a summer evening in August 1992 (Photo MERS Collection)
ACKNOWLEDGEMENTS
The Manx Electric Railway Society is grateful for the generous help, support and assistance of the following people, all of whom have either contributed or prepared material for use on the MERS website: Alex Townsend, Julian Nutter, Kevin Lewin, Richard Dodge, Alan Spencer, Ray Stanfield, Michael Skehan, Carol Bond, Rob McCaffery, Mike Jones, Mark Green, Colin Clifton, Michael Owen, Chris Rowe, Marmaduke of Douglas, Jon Wornham, David Hennessey, Neil Clifton, Caroline Matthews, George Gardiner, John Halsall, Tony Quine, Roy Scott, Stewart Douglas, Chris Thornburn, David Packer, Cade Williamson, Steve Bown, Julie Matthews, The Laxey Tram Man and to all who have assisted in any way.